What are Beer Boots?
Many of you may be asking what exactly a beer boot glass is? What's the history behind them? Well here ya go...
Beer Boot History
German Beer boots or 'Bierstiefeln' in German have over a century of history and culture behind them. It is commonly believed that a Prussian general promised his troops to drink beer from his boot if they were successful in battle. When the troops prevailed, the general had a glass maker fashion a boot from glass to fulfill his promise without tasting his own feet and to avoid spoiling the beer in his leather boot. Another tradition holds that during the first World War German soldiers began passing around a leather boot filled with beer, as they were lacking glasses. It became a symbol for good luck, as the soldiers would flick the boot before drinking it for good luck, and flick it again after drinking to wish the next soldier good luck.

Since then, soldiers have enjoyed toasting to their victories with a beer boot. At gatherings in Germany, Austria and Switzerland, beer boots are often passed among the guests for a festive drinking challenge. Since the movie 'Beerfest' appeared in 2006, beer boots have become increasingly popular in the United States. Originally most commonly seen in the German Restaurant and Bier Garten (Beer Garden) scene in the US, they have become a party essential at college campuses across the nation and are commonly used in beer pong leagues.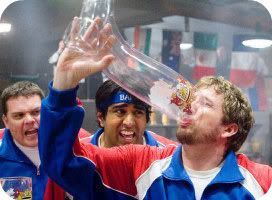 A beer boot is either made using automated manufacturing(machine pressed) or mouthblown(into a mould) shaped in the form of a boot. They come in a wide array of sizes, and we carry the largest variety. For drinking groups in particular, the larger beer boots, especially the 2 liter beer boots , are the favored option.